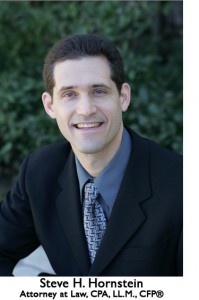 Estate Planning
Trusts & Wills
Durable Powers of Attorney
Trust Administration
Probate
Litigation
Tax
Accounting
Financial Strategy
About Our Office
Hornstein Law Offices has prepared thousands of Trusts and related documents. We handle every facet of Trusts and estate planning from document preparation to probates, conservatorships, trust and estate settlement, trust and estate administration, and litigation when necessary. Having won numerous court trials, we have the experience necessary to efficiently plan and administer estate plans. Our Trust packages are of the highest quality, both in terms of language and content, as well as presentation. We won the Daily News Reader's Choice Award for "Best Living Trust" FIVE years in a row, in 2012, 2013, 2014, 2015 and again in 2016.
Steve Hornstein's Background
Steve Hornstein is an attorney, CPA, and Certified Financial Planner™. He received his bachelor's degree in Economics-Business from UCLA, law degree from Loyola Law School, and LL.M. in tax from Golden Gate University. In 1996, during his final year at Loyola Law School, Steve Hornstein began working at the accounting firm of Deloitte & Touche, LLP in their Estate, Gift, and Trust Group and Financial Counseling Services Group. Mr. Hornstein worked in Deloitte's offices throughout Southern California on behalf of many business and individual high profile and high net worth clients. In 2000, Mr. Hornstein left Deloitte for a position as Controller of an internet consulting firm in Los Angeles, CA, guiding the company through its sale to a venture capital firm in 2004.
Mr. Hornstein opened his Woodland Hills office in 2002. Steve Hornstein and the staff at Hornstein Law Offices pride themselves on providing clients with expertise as well as patience, caring and understanding. Mr. Hornstein is the author of "18 Rules to an Estate Plan That Will Work!" In its 150 pages, Mr. Hornstein concisely guides the reader through the estate planning process with real stories. He explains the 18 rules to follow to have an estate plan that will work when it needs to.