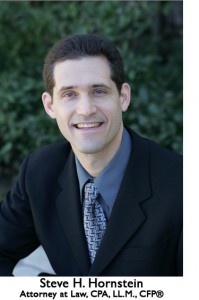 Estate Planning
Trusts & Wills
Durable Powers of Attorney
Trust Administration
Probate
Litigation
Tax
Accounting
Financial Strategy
About Our Office
Steve Hornstein opened his Woodland Hills law and accounting office in 2002. His office assists individuals and business clients in a broad range of services.
Steve H. Hornstein has worked in the areas of accounting, tax, financial strategy, and estate planning since 1996. He is also practicing law as a probate attorney and trust administration attorney. He has worked at the accounting firm of Deloitte & Touche, LLP in their Financial Counseling Services Group. While at Deloitte, Mr. Hornstein worked in their offices throughout Southern California, on behalf of many business and individual high profile and high net worth clients.In 2000, Mr. Hornstein left Deloitte for a position as Controller of an internet consulting firm in Los Angeles, CA, guiding the company through its sale to a venture capital firm in 2004. Hornstein Law Offices pride themselves on being a full service agency. They provide clients with decades of expertise as well as patience, caring and understanding.
I appreciate the support from you and your entire staff as I navigated the unfamiliar role of Trustee/Executor for my stepfather and brother last year and this year.
Especially during the first few weeks after my stepfather…died, in March 2010, Holly Thornton not only gave me a great overall description of what needed to be done, and when, but she also helped me keep my focus/sanity when family emotions ran high. Her confident guidance…was contagious and gave me confidence that I was doing my job well.
When an issue came up that Holly believed needed additional input she would sometimes tele-conference me in with Missy Roche, whose advice was always on target. Evan Press reviewed some of my financial reports before I sent them to the beneficiaries and made helpful suggestions. As you may recall, my stepfather's daughter engaged her own attorney which was a little "nervous making" but you and Holly dealt with that which gave me the breathing space to do my job. You sorted out the tax returns, both Personal and Trust, complete with Form K-1 for the beneficiaries. Thank you, thank you…
There have been so many ways that you and your staff have been helpful to me: tax returns, real estate transaction advice, banking issues, record keeping advice. It was all good. The lion's share of my contact with Hornstein Law Offices, however, was through Holly and she always had a good, practical solution to any problem I brought to her and every single phone call ended with me feeling better and ready to charge forward. What a gift!
…I wanted you to know how much I appreciate you and your team.
Best regards, Brenda A.